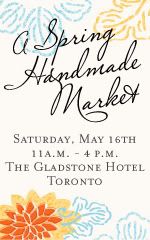 So I went to the bank this morning (miscellaneous banking) and made sure to get some small bills so I have change for customers. This evening I plan to lug home two retort stands (you know, those vertical metal poles on a base you used in chemistry class, for holding things, once upon a time)*. (Sadly, I have to go out to the east end before going back to the west end, so these will be some well-traveled retort stands). I will use ribbons and miniature clothes pegs to suspend my prints. I have a collection of baskets for pillows and giraffes and such. I have a tin for displaying magnets. I have bowls for brooches and business cards.
What else?
Ack! I need price tags.
And maybe a parts box for coins.*
If you are free and in Toronto,
please come by
and say hello! Wish me luck!
*Pretty sure I'll be the only one with this solution... but it makes sense, you know. Especially if you have a laboratory with useful equipment to borrow.