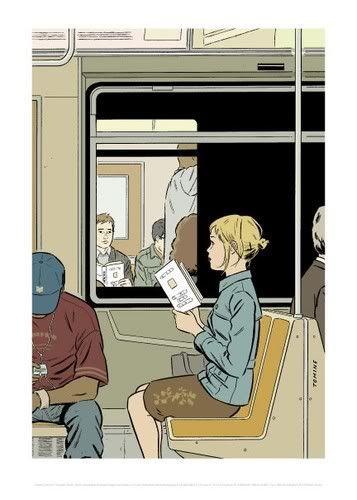 {image by
Adrian Tomine
}
20. Hicksville by Dylan Horrocks
is a long graphic novel, about comics, authorship, friendship, the history of New Zealand and
turangawaewae
- finding a place to stand. It weaves different elements together, and follows more than one protagonist. Hicksville is a small, remote town in New Zealand, where each and every inhabitant harbours a great love and knowledge of even obscure comics. It's the home town of Dick Burger, the world's most financially successful man in the comics industry, who rose rapidly to fame with his Captain Tomorrow series, now being made into films. Biographer Leonard Batts travels to Hicksville to learn more about him, only to discover that for some reason unsaid, Burger is much despised. Also, pages recounting a story of early navigators, both English and Maori, keep strangely blowing his way. Burger meanwhile coerces his childhood friend and fellow (struggling) cartoonist to leave Auckland for LA, though he thinks he might have just met the woman he's been looking for.
It's really quite beautiful.
21. Seeing by Jose Saramago
This is the sequel to
Blindness
so I should have known exactly what I was getting myself into. I made the mistake of reading
The Cave
first, which in hindsight, would have had extra layers of meaning if I had read it after
Blindness
and
Seeing
. The premise of
Seeing
is that four years after the country was hit with an epidemic of 'white blindness' (which affected all people, but the wife of an ophthalmologist, unbeknownst to all but a tiny group), an election is marred by an abnormal number of blank votes from the capital (where the epidemic originated). A re-vote makes the situation worse: 85% of votes in the capital are blank. The government calls a state of emergency, and ultimately a siege. The story is about the decent into totalitarianism. It, like Saramago's other novels, reads like another fable by a wise old man. However, I found this novel more distancing. It is a good 200 pages before we re-encounter some characters from
Blindness
, and 250 before we reach the scene included as a preview in my copy of
Blindness
. The story does unfold in a manner which seem inescapable. I would be being flippant were I to say the message is that humans are dishonourable, power hungry, paranoid and vengeful, and that those heroic individuals of honour make ideal scapegoats. However, that is nonetheless what makes these novels a challenge to read.
{Series so far:
books read
,
more books read
,
books read
,
books read continues
,
more books read
,
I
,
II
,
III
,
IV
,
V
,
VI
,
VII
,
VIII
,
IX
,
X
,
XI
,
XII
,
XIII
,
XIV
,
XV
,
XVI
,
XVII
,
XVIII
,
XIX
,
XX
,
XXI
,
XXII
,
XXIII
XXIV
,
XXV
,
XXVI
,
XXVII
,
XXVIII
,
XXIX
,
XXX
,
XXXI
,
XXXII
,
XXXIII
,
XXXIV
,
XXXV
,
XXXVI
}