1. Make a garden, like so:
[picture of MERCI – 111 boulevard Beaumarchais, 3rd Arrondissement, Paris by Karyn Valino via
make something
]
2. Make a tank/bulldozer, like so: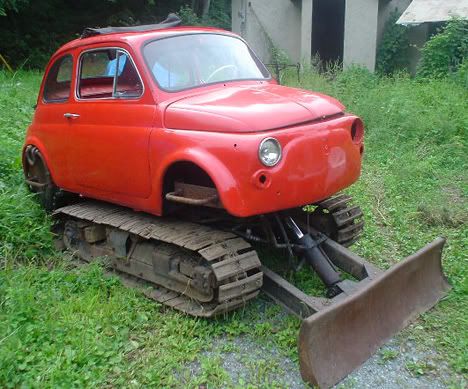 "The Fiat Cinque Tank, a dream bulldozer custom-built by ironsmith Kogoro Kurata, consists of an old Fiat 500 body mounted on the caterpillar tracks of a cheap secondhand tractor. The farm machine can only reach a speed of 3 kilometers per hour, turning a trip to the nearest convenience store into a 2-hour adventure, according to Kurata. But the classic look of the cabin no doubt impresses the neighbors, and the working power shovel comes in handy when obstacles block the way."
[via
pink tentacle
]