I added the following to my sidebar. A little reminder/additional info for friends in Toronto who
are all invited to join me!
Upcoming events:
Folk Tea Party Bake Sale
Resistor Gallery at College and Spadina in Toronto, Date: Sunday April 19th 2009
Time: 1pm - 6pm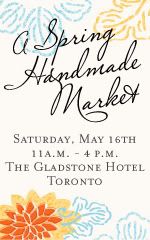 I am so glad to be doing something creative with my free time - which involves neither lawyers, nor paranoid engineers (apologies to the non-paranoid engineers... but the paranoid are beginning to get on my nerves...), also, the first of these two events raises money for lymphoma research and to support families.
Also, my b-day (Mayday) marks the Spring Clothing show, and the
centenary of the amalgamation of the Junction with Toronto
which is nifty. Toronto itself is 175 this year. On May 2nd, 2pm, Toronto area
craftsters will be meeting up at the Moonbean Cafe in Kensington Market
.
More immediately, it's the geophysics movie night... so I will not be venturing out into the deluge quite yet. {By the way Elements, April shows, I get it... but you know, this ain't the rainforest... don't over do it.}